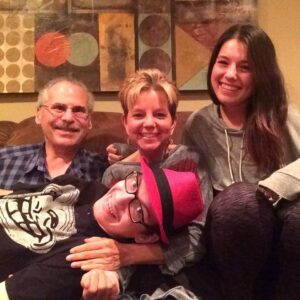 Something always seemed "off." It began from Andrew Slaw's complicated birth in 1992, and an initial diagnosis of failure to thrive. As he grew, Andrew had feeding difficulties, frequent hospitalizations for pneumonias, and inability to cry tears. Yet Andrew's pediatrician assured us that our parental fears were unfounded. It wasn't until age four, when Andrew smashed his finger in a door and registered no pain, that he was ultimately diagnosed with FD by a pediatric neurologist in Chicago.
Andrew's FD diagnosis was both comforting and petrifying. On the one hand, we had an answer; the laundry list of FD symptoms described Andrew to a tee. On the other hand, we faced a terrifying reality; the prognosis was not good. The literature described FD as "fatal." Most sources said that Andrew would be lucky to live beyond childhood.
To combat the pneumonias triggered by continual retching and aspiration, gastroenterologists recommended two surgeries – a fundoplacation (tightens the base of the esophagus where it meets the top of the stomach) and a gastrostomy tube (a plastic portal inserted directly into the stomach.) Andrew, at age four-and-a-half, underwent surgery for both a "fundo" and a "g-tube."
For the first decade of his life, Andrew bounced from home to hospital nearly thirty times. He would enter the emergency room in autonomic crisis, a horrid state of constant retching, and off the charts high blood pressure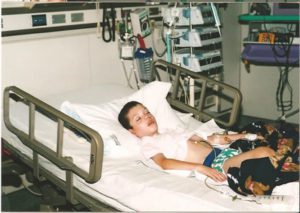 and heart rate. Often, he'd simply bypass the ER and head straight up to intensive care, where all eight intensivists knew Andrew by name. When Andrew was ten, he spent six months on the intensive care unit, battling through daily waves of autonomic crises. There were times that Kenny and I simply thought he wouldn't make it through. How much trauma could our skinny, frail boy withstand? We planned for the worst; we met with a funeral director, signed papers for tissue donation and braced ourselves for sitting shiva.
From the darkest days emerged light. While we firmly believe that Andrew's will of steel, sense of humor and love of family kept him going, we know that Andrew would not be alive today if it were not for two researchers, Dr. Berish Rubin and Dr. Sylvia Anderson. Drs. Rubin and Anderson discovered the FD mutation in record time followed by many treatment breakthroughs. Andrew received the first breakthrough, tocotrienol, in the hospital, through his g-tube. Within two weeks, he was walking, talking, cracking jokes, and discharged home (where he bounded through the house and promptly asked for sushi.) The tyramine-free diet has kept Andrew's crisis at bay and continued discoveries have provided an added level of autonomic stability.  Andrew's stability allowed him to attend college part-time for seven years shadowed by his nurse.  He graduated in Spring 2017 with his Bachelors of Arts in Cinema, worked part-time at a theater shadowed by his nurse, and currently has his own small art business.
Andrew still faces challenges. He is still underweight and thin-boned. He still has occasional dizzy spells. And, due to his original surgery, he has a herniated fundus, which has already ruptured once. Despite these challenges, Andrew has something he never had before – a future.
Ken, Ann, Andrew and Emily Slaw – Buffalo Grove, Illinois