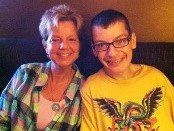 I am the mom of a child with Familial Dysautonomia (FD) and, for over two decades, both my husband Ken and I have been extremely active in the FD community. We founded the Familial Dysautonomia Now Foundation (FD NOW), a 501c3 tax-exempt, not-for-profit organization, to support the critical work of Dr. Berish Rubin and Dr. Sylvia Anderson at the Laboratory for Familial Dysautonomia Research at Fordham University. These two researchers discovered the FD mutation in record time followed by many treatment breakthroughs – with more on the horizon.
FD NOW was so named to underscore our founding principle – urgency. Children with FD, like Andrew, do not have the luxury of time. Urgency drives our researchers to test and then deliver safe substances that have an immediate positive impact in our children's daily lives. Urgency drives our commitment to promptly forward your dollars to Drs. Rubin and Anderson, to ensure swift results. These two researchers are dedicated to quickly improving the daily lives of our kids by making the effects of FD disappear.
Since the early 2000's, these two dedicated researchers have done just that – their remarkable treatments are ameliorating the effects of FD.
We eagerly await their next amazing discovery.