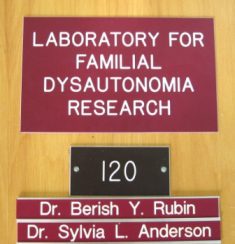 Revolutionary treatment breakthroughs discovered by the Fordham Laboratory for Familial Dysautonomia Research have helped children and adults with FD live healthier lives with greatly improved autonomic stability.
The hallmark of these treatments is that they treat the underlying cause of the disease, rather than just treat the symptoms.
Prior to these systemic treatments, the medical community could only rely on a variety of individual treatments for individual symptoms. For example, to combat low blood pressure, patients were prescribed Florinef. To combat high blood pressure, patients were prescribed Clonidine. Even today, to combat chronic morning nausea, some patients use Valium daily.
Note that patients taking daily Valium and some other medications to treat individual symptoms do not experience the benefit of the treatments outlined below.
The development of these treatments followed the ground-breaking discovery of the FD gene mutation in 2001. The Fordham Laboratory for Familial Dysautonomia Research became the first group in the world to submit a paper demonstrating that Familial Dysautonomia is caused by mutations in the IKBKAP gene. This historic discovery meant that carrier testing and prenatal screening of the general population was possible. Click here and here to learn more.
Because of the FD-causing mutation, individuals with FD make insufficient amounts of the protein, IKAP, which is encoded by the IKBKAP gene. Research is directed toward finding treatments that will: 1) increase the levels of the functional IKAP protein in FD patients and 2) promote autonomic stability in these individuals.